F & J Patriot Trim Rollformer
Tooled in our most popular F & J profiles

MRS' F&J Trim Machine produces trim faster, safer, and more consistently than traditional folding methods.
The F & J trim machine has many features including:
Production capacity: 600 pieces of 10′ trim every hour
Tear drop hem for full hard, grade 80 material
Offered in 1″ or 1 1/4″ face design
Adjustable soffit receiver to accommodate 5/16″ – 3/4″ soffit rib height
​​This high-demand profile will have you saving money on labor and materials in no time. In an industry where time = money, this profile is exactly what you need.

F & J Combined Profile
Two high demand profiles made into one popular configuration. Our innovative F & J profile takes the extra time, money, material and labor costs out of the equation when compared to using two J trim pieces.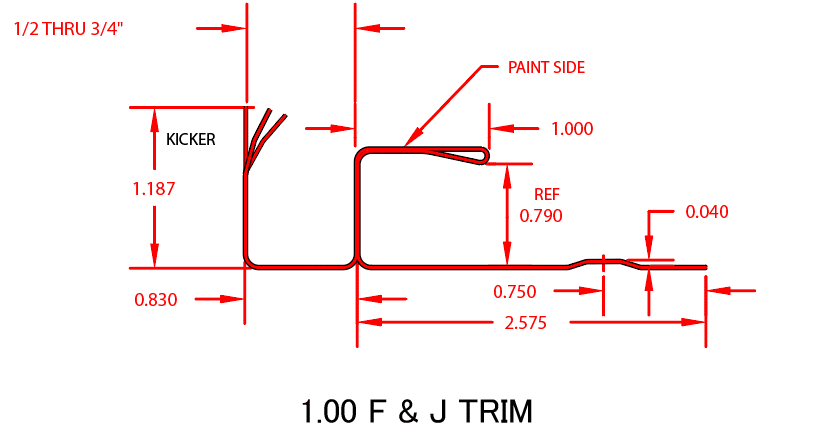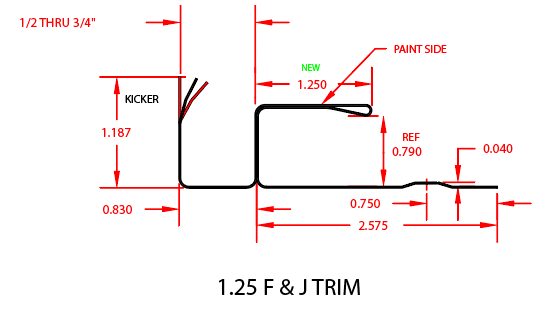 Customizable
Our F & J machine is customizable to fit your
soffit needs. The soffit jamb is adjustable,
allowing for 1/2", 5/8" and 3/4" capability on one
machine.
Straightforward Design
Our simple, straightforward design allows for operators to adjust to different soffit sizes within minutes. The F & J machine's versatility and simplicity allows for fast training for all operators. Clear control and soffit adjustment instruction make operating our F & J an uncomplicated, easy experience.

Contact Us For More Information
If you are interested in learning more about our F&J Rollformer please feel free to contact us today.